Vintage Scene Video


This app is just plain fun giving each video produced a unique visual quality.

Using an innovative algorithm Vintage Scene Video automatically combines several classic effects: sepia tone, grain, darkened edges, distressed paper, along with fade that over time leaves an image with bright blacks and darkening whites. The interface is easy and will give users the control to edit each component for many customized looks.

Built with power videos can be saved in full resolution on 3GS, iPhone 4 and iPod Touch 4G.

Getting Started:
When you open the app you will be asked if you would like to get a photo from your Camera roll or to take a photo with the built in camera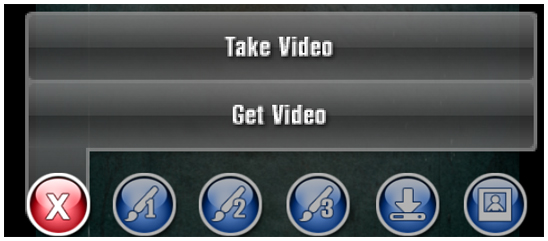 Customize
Selecting the two button will open the Adjust tab where you can customize the look of your video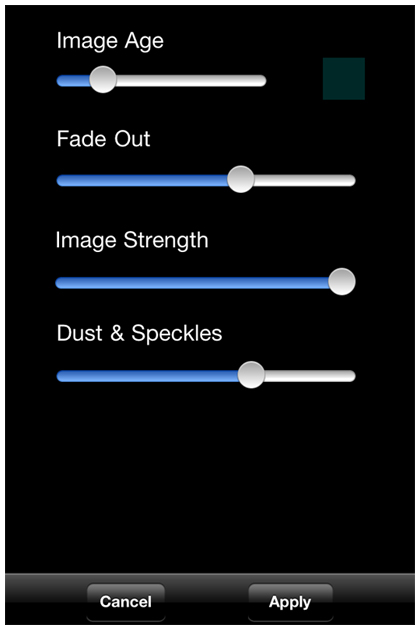 Image Age
Moving this slider right changes the aging effect on the overlay. Use the color box to pick a custom age color.
Fade Out
Blends the texture in a vignette fashion around your photo. Moving the slider right decreases the vignette amount to allow more of the photo's edges to be seen.
Image Strength
The image strength allows you to choose how much of your photo will be seen through your vintage texture. Fade photo by moving the slider left.
Dust & Speckles
Adds dusts and speckles through out your image. Use the slider to change the opacity.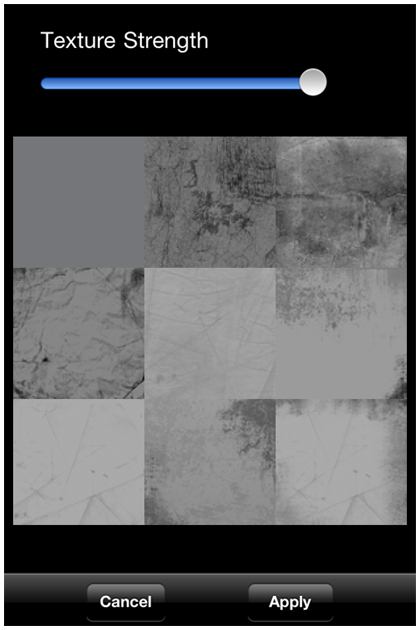 Texture Strength
Change the opacity of the textured overlay selected below.
Texture Thumbnails
Overlay textures are distressed papers and borders that gives your photo a tattered and grungy look.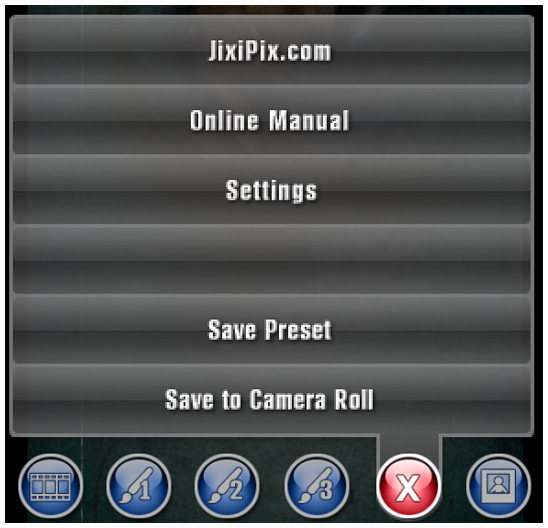 JixiPix.com
Takes you to our website where you can view our other products.
Online Manual
Takes you to this page.
Settings
Here you can change the video output size and movie style.
Save Preset
Adds your custom made preset to the Styles Tab also lets you name the preset.
Save to Camera Roll
Saves the image to your camera roll.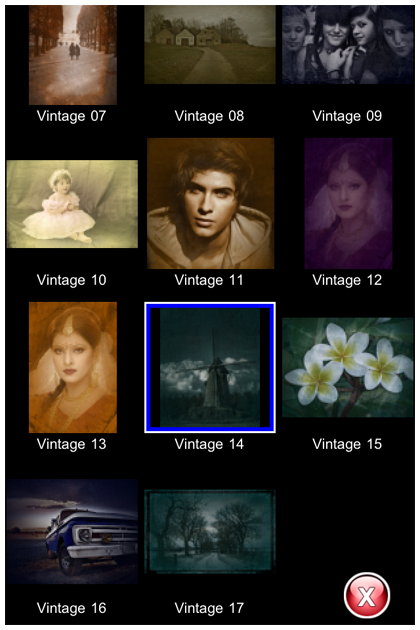 Saving and Deleting Presets
Once you have applied a preset and modified it using the adjust tab, you can save your own custom preset by using the "Save" button on the main screen and choosing "Save Preset" off the menu. To delete a preset, press down on the thumbnail and hold until a red "X" appears, then tap to delete it.


QUESTIONS
Please contact us using the form on the CONTACT PAGE.