Snow Daze - iPad Info


Transform your picture with Snow Daze. Perfect for making Christmas cards to send to the family or to just add a little holiday to a picture. Choose from our built in presets to transform your picture instantly or customize your own snow scene with the Adjust Tabs.
Getting Started:
Theres 2 ways to start either Take a picture or get an image from your Camera Roll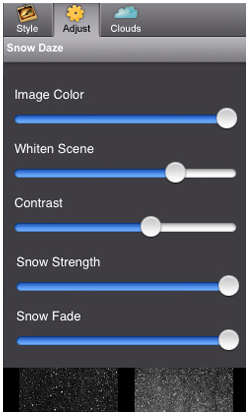 Image Color
Move this slider right to add more of the original color back into the scene.
White Scene
Adjust how frosty your picture appears by moving this slider right.
Contrast
Deepens the dark areas in the scene.
Snow Strength
Adjusts the opacity of the snow.
Snow Fade
Move this slidr right to bring the snow closer to the ground.
Snow Thumbnails
Click on these to change from light to heavy snow fall.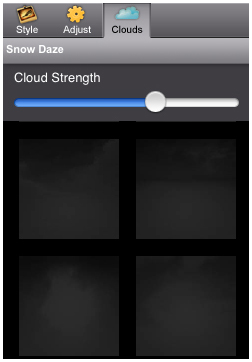 Cloud Strength
Adjusts the opacity of the clouds.
Cloud Thumbnails
Click on these to change the clouds styles.
Saving
There are multiple ways to save and share your image

Save Photo
Saves your image to your Camera Roll
Save Preset
Adds your custom made preset to the Styles Tab
Print
Opens up a print option where if you have a printer connected to your device you can print it right then
Email
Opens up your email so you can share your photo with friends and family
Facebook
This will save your image and open up a Facebook login screen once logged in your photo will be automatically uploaded to facebook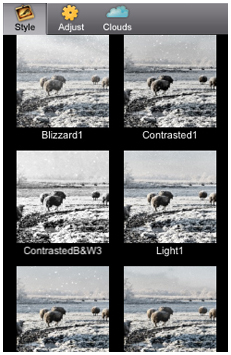 Saving and Deleting Presets
Once you have applied a preset and modified it using the adjust tab, you can save your own custom preset by using the "Save Preset" located on the top of the page. To delete a preset, press down on the thumbnail and hold until a red "X" appears, then tap to delete it.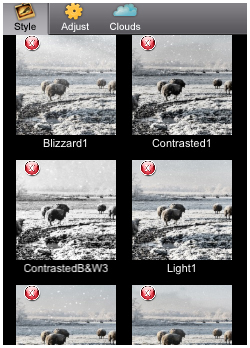 QUESTIONS
Please contact us using the form on the CONTACT PAGE.