Simply HDR - iPhone Info



Early on photographers were challenged to capture beautiful scenery, seen with their eyes onto film. Now, with Simply HDR photographers and hobbyists can automatically convert their images into ones with unparalleled ranges of light and detail. Gone are the days of multiple images; with Simply HDR one picture is all that is required to add dramatic luminescence to the brightest and darkest areas of any scene.

Simply HDR will produce an outstanding picture with a maximized range of dynamic light, but for times when your subjects are people or pets, we've provided a "brush" tool to gently smooth areas with too much detail or use it to correct a halo where the sky meets the trees.

High Dynamic Range is captivating and mesmerizing, revealing and detailed, utterly awesome and rich with beauty. It's also user-friendly for both professional and amateur photographers.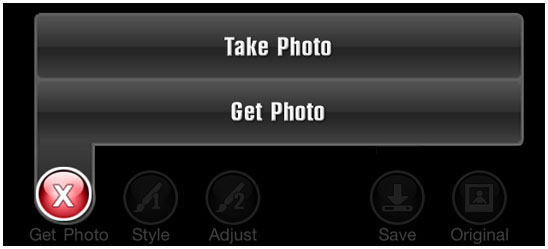 Take Photo:
Opens the custom camera.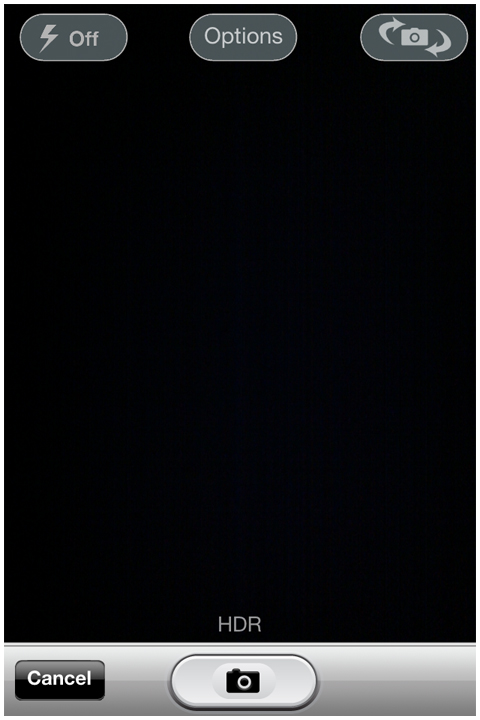 The custom camera comes with options to better customize your image.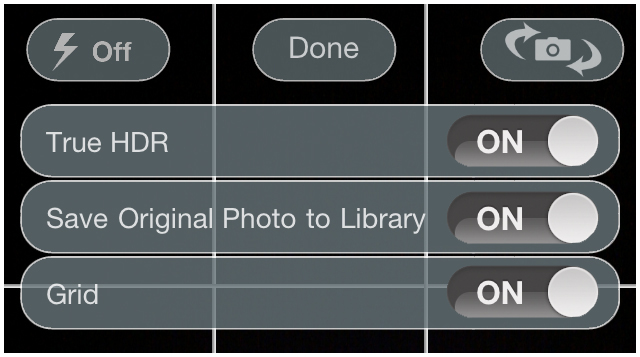 Flash On/ Off/ Auto
Changes when the flash will be used; always, never or only when needed.
Switch Camera
Switch between the front and back camera.
True HDR
Creates a True HDR image.
Save Original Photo to Library
Saves the image to the camera roll.
Grid
Overlays your image with a grid to get a better break down of your image.
Focus
The camera also has a built in focus function which lets you click anywhere on the image to focus in on that part of the image. Hold it down to lock the focus.

The Camera also has a retake button just incase.



Get Photo:
Opens your library to select an image.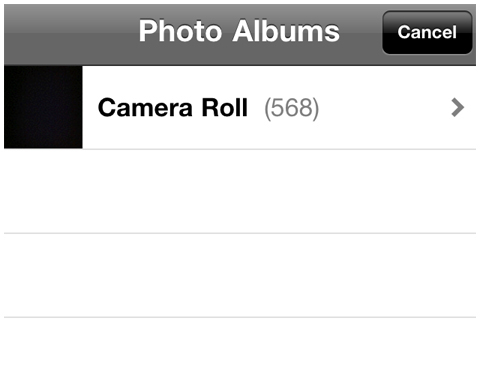 Customize
Selecting the adjust button will open four tabs which you can use to customize your picture. The Adjust Tab changes depending on which Preset Style you have chosen.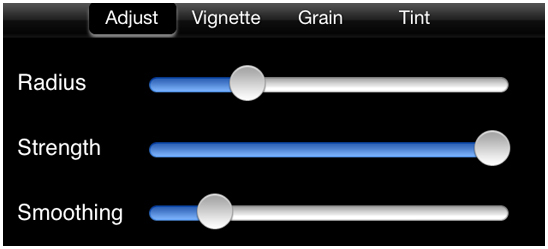 *HDR, Black and White and Contrasted HDR Version
Radius Slider
Smooths out the contrast of the image.
Strength Slider
Adjust the opacity of the HDR effect.
Smoothing Slider
Used to remove unwanted image noise on the image.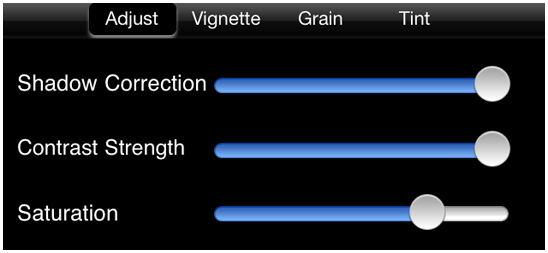 *Contrasted Light Version
Shadow Correction Slider
Remove unwanted shadows from the image.
Contrast Strength Slider
Deepens the dark areas in the scene.
Saturation Slider
Move this slider right to add more of the original color back into the scene.

*Shadows and LIght Version
Shadow Correction Slider
Remove unwanted shadows from the image.
Highlight Correction Slider
Removes unwanted highlights from the image.

Vignette Fade Slider
Adds a darkened edge around the image move the slider right to increase the distance it covers.
Vignette Strength Slider
Changes the opacity of the Vignette.
Grain Strength Slider
Changes the opacity of the grain effect selected.
Grain Thumbnails
Choose the grain effect used to overlay the image.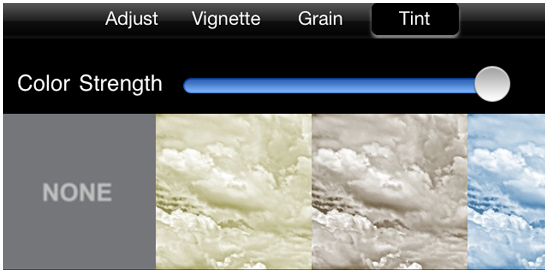 Color Strength Slider
Move the slider right to increase the amount of color tone added to the image or move it left to add the original color back into the image.
Color Thumbnails
Choose a color to overlay over the image.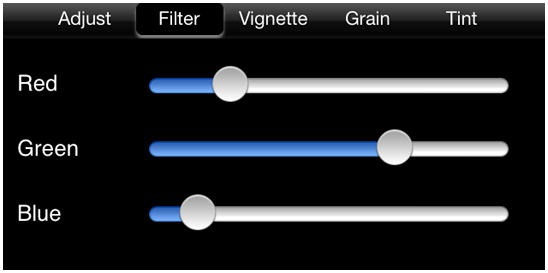 Red/Green/Blue Slider
Filters the black and white image with the selected color range.
*Only Available when Black and White Style Preset is selected
Saving
Click on the Share Button will open a variety of different ways to save and share your image.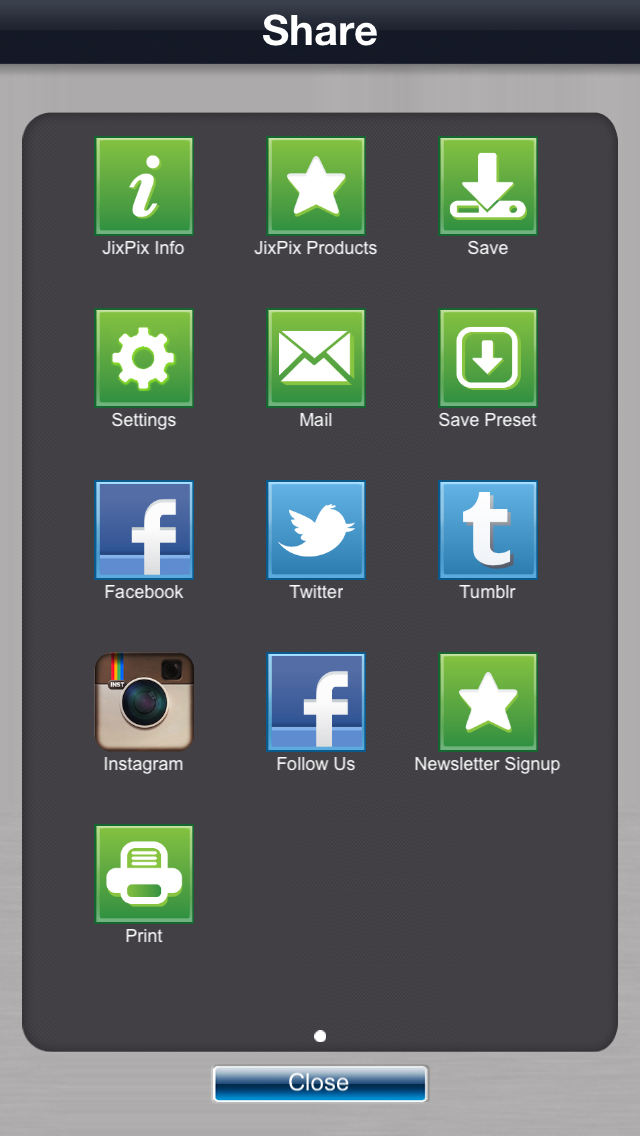 Jixipix Info
Brings you to this page.
Jixipix Products
Takes you to the Itunes App Store where you can view all our Apps.
Save to Camera Roll
Saves the image to your camera roll.
Settings
Change Image output size, Logout of Facebook, Twitter, and Tumblr, and rebuild the built in presets that came with the app.
Email
Opens up your email so you can share your photo with friends and family.
Save Preset
Adds your custom made preset to the Styles Tab also lets you name the preset.
Facebook
This will save your image and open up a Facebook login screen once logged in your photo will be automatically uploaded to facebook.
Twitter
This will open up Twitter login screen once logdded in your photo will be automatically uploaded to Twitter.
Tumblr
This will open up a Tumblr login screen once logged in your photo will be automatically uploaded to Tumblr.
Instagram
Opens Instagram where you can upload your image. (Requires Instagram installed on your phone and being logged into your Instagram account.)
Follow Us on Facebook
Opens up our Facebook page where you can like us to get info on our latest apps and updates.
Newsletter Signup
Enter your email to be the first to here about our upcoming apps and updates.
Print
Opens up a print option where if you have a printer connected to your device you can print it right then.
Presets
Use the Styles Button to view our different presets.
SimplyHDR comes with 5 different preset folders.
High Dynamic Range


Black and White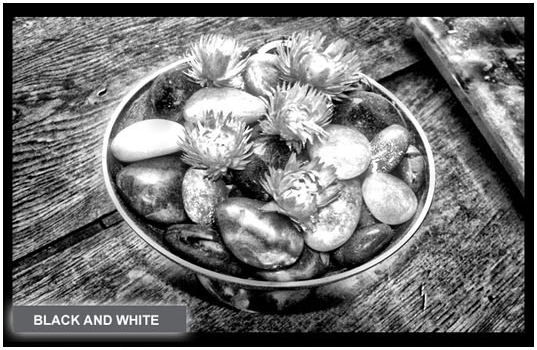 Contrasted HDR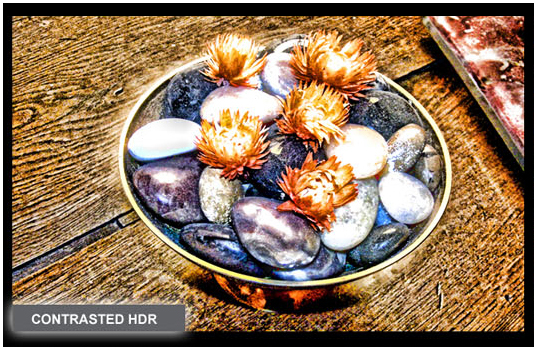 Contrasted Light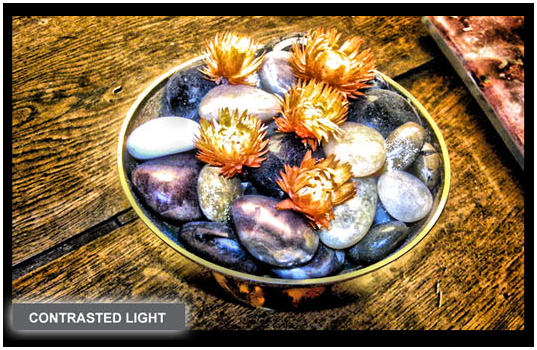 Shadows and Light


Saving and Deleting Presets
Once you have applied a preset and modified it using the adjust tab, you can save your own custom preset by using the "Save" button on the main screen and choosing "Save Preset" off the menu. To delete a preset, press down on the thumbnail and hold until a red "X" appears, then tap to delete it.



QUESTIONS
Please contact us using the form on the CONTACT PAGE.