Software for Hobbyists & Enthusiasts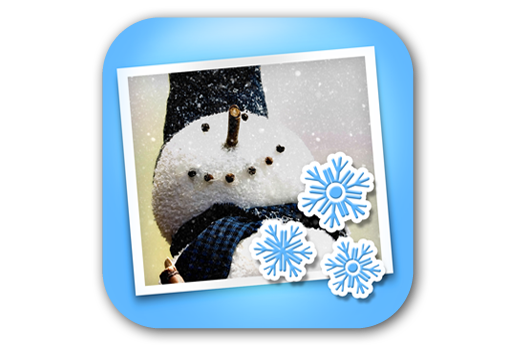 Snow Daze
Create a snowy day memory with your picture
We all love a snow day. Whether you enjoy being let out of school, sitting by a fire drinking hot chocolate, staring out the window and watching the flakes fall, kids yelling and screaming as they play, or just standing and listening to the serene quit that snow brings. A snow day is a day to play hookie, forget all the stresses of life, hang out with the kids, just have fun. Snow Daze will create snowy day scenes from your photo with snowflakes and frosty effects. Great for creating Holiday Cards or adding an artistic touch to an otherwise general photo.
$4.99

Snow Daze Features
One-touch settings automatically add snow and frosty effects to your photo creating beautiful snowy scenes. Use the snow brush to wipe snow from faces and areas you don't want flakes with options to brush them back in. Choose from a light snow to a heavy blizzard and adjust how frosty your picture appears using the whiten scene slider. As with all JixiPix apps the usage of Snow Daze is super simple and creates amazingly realistic results.
Snow Daze Style
Snow Daze—has one job, to create beautiful snowy scenes directly on your photo! It does it well—you won't be disappointed!
Snow Daze Includes
Options for light to heavy snow fall
Control over snow strength and snow fade
Whiten scene effect
10 Cloud finishes
10 Snow types
12 One-touch settings
Every JixiPix Product Features
Support for high resolution images and output
Multiple undo
Randomize button
Quick previewing
Customizable settings
Superior customer service
Contact us any time we are committed to your long term satisfaction!
Customer Testimonials
JixiPix does it AGAIN!
Not 4 days ago I litterally said to myself "is there an app in the App Store that adds snow?" !! You guys are mind readers. I just tried it out and, as I expected, I love it. If I have any problems, I'll update this - that is if I even have any!
EFFECTIVE AND FUN!
Surprisingly effective and a load of fun to use.
GREAT
I have all your other apps and by far these are the best for taking your pictures to another level. Thanks for the creativity and ease of controls!! Keep designing more. I'm a fan!
THANKS
I totally like all your apps! Yours one r so useful! Endless Creativity! 5 stars!